Kruvand Associates Celebrates 50th Anniversary
Manufacturers' Representatives Since 1971
---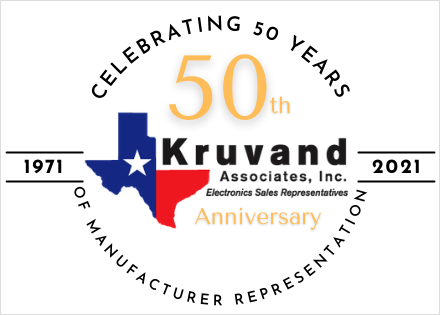 Over 50 Years Serving Advanced Electronic Markets
Kruvand Associates is a technical sales organization focused on Interconnect, Passive and Electromechanical manufacturers, with a special emphasis on EMI/RFI & Thermal solutions, embedded systems & displays, circuit protection, active components, materials & packaging.
Founded in 1971, our employee-owned corporation ensures longevity of our associates, and positions us in the marketplace, to maintain and develop lucrative, long-term partnerships. Our sales people have years of experience in this high tech industry and are very experienced and used to working with multiple CRM tools daily such as Salesforce.
We are extremely thorough with documenting our design activity and work side by side with our Distributor partners to assist in registering designs and assisting them with getting critical information they need from our manufacturers we represent. We have a huge database and do extensive marketing.
Our valued customers have depended on us to assist with Design Services and to help them by assisting in all aspects of design to delivering components fast for their QuickTurn prototypes.